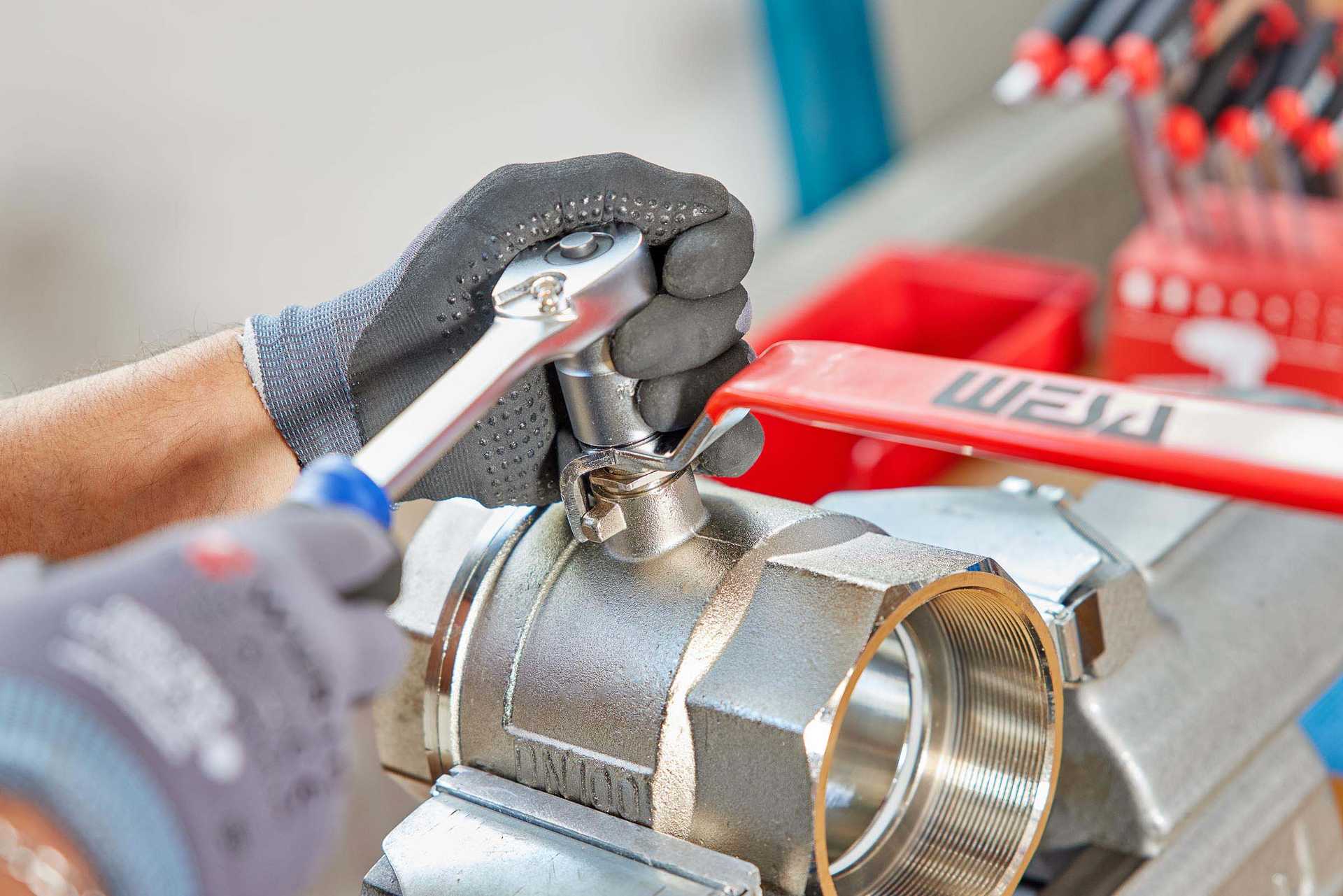 THE EXPERTS FOR BALL VALVES
AND INDUSTRIAL VALVES
WESA – We develop reliable valves
---
WESA-Armaturen GmbH develops, produces and refines ball valves, as well as heating and industrial valves. Our products are used to open and close pipelines.

The main factory is located in Winterbach near Stuttgart. We grew again in 2016 when we opened a new administration building. We manufacture high-quality valve products at a facility covering over 8,000 m² in Germany and at numerous production cooperation sites worldwide. From in-house design to assembly and packaging, WESA is your one-stop shop!
Products
---
WESA stands for quality - for over 45 years!

The basis for all WESA ball valves is the thick-walled basic model 600. All ball valve models are based on this solid body. The products are used internationally in all sectors and therefore meet the highest requirements.

At WESA you will find the best in the areas of:
Are you or your company looking for a special solution with special material requirements or technical specifications for your system? Our experienced team of experts in the process automation will be happy to help you with this. We create solutions made to measure, complete or individual. All WESA products are manufactured exclusively according to ISO standards. The constant review of technical quality ensures all WESA articles consistently high standard. To ensure that our products are durable and reliable, we attach great importance to thorough functional tests and careful measurements of all systems.
Services
---
It is not only heating professionals who use our ball valves from "brine to solar". They are also used in plant engineering, district heating stations, vehicle construction and renewable energy systems. The wider the range of applications, the higher we set the bar for the quality of our products.

The plumbing and heating wholesale trade is our permanent partner. As part of the three-stage distribution channel, we supply everyone well-known wholesale groups in central europe. To our strengths include a wide range, large stock and production capacities and a reliable delivery service.

Both the association headquarters and their branches are supported by competent advice from our field service experts on site. In addition our service also includes the EDP link to the systems our major customers.

In close collaboration with original equipment manufacturers and producers, we create innovative custom valves. As in Formula 1, series production also regularly benefits from this experience. Our customers appreciate the customised support we offer for developing and packaging their products. We assemble individual valve assemblies from several standard components, for example for flat and wall heating systems. More and more customers value this partnership and entrust us to carry out the pre-assembly of their products.
Pursue
---
Our family-run company has been a benchmark for tried-and-tested quality for more than 45 years. Our company success is based on comprehensive, expert knowledge, reliable delivery service, excellent support and strict adherence to deadlines. WESA's main plant is located in Winterbach near Stuttgart.

Covering over 8,000 m² in Germany and with numerous production collaborations worldwide, WESA develops, produces and refines the highest quality ball valves, heating and industrial valves, thus supplying almost all areas of application for the most diverse material designs. WESA not only sells the necessary components for opening, closing and regulating pipelines, but also offers solutions, concepts and technical support for planning in the field of energy, the automotive and food industries, mechanical engineering, as well as surface treatment and filling plants. The focus of our company policy is on tried-andtested product quality, reliable delivery service and strict adherence to deadlines.
Find a suitable contact person quickly and easily